Description
eBiss – the first intelligent EDI converter
eBiss is far more than just an EDI converter: eBiss is the only partner-geared and fully integrated EDI and EAI software.
Functional overview (simplified)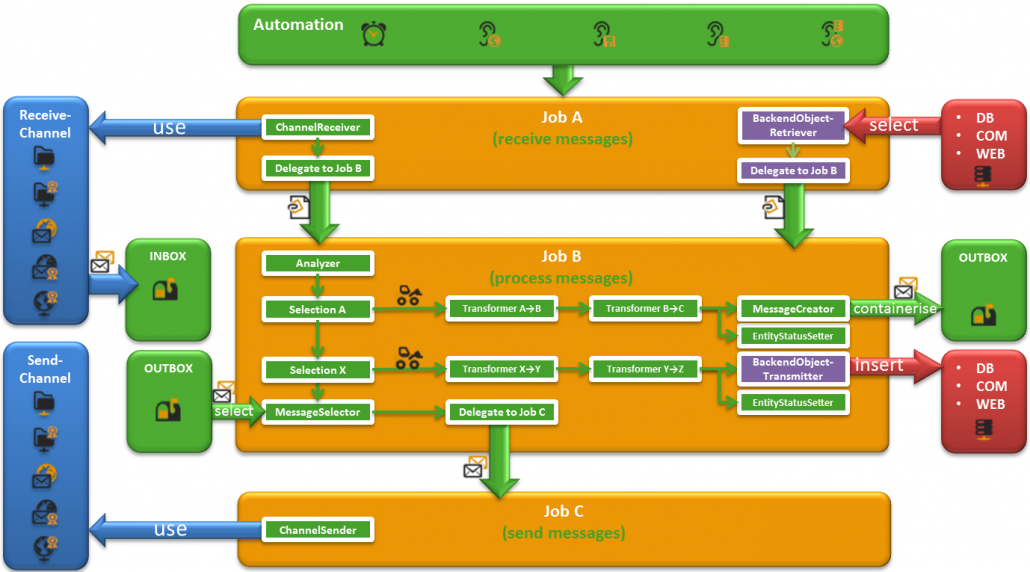 1
An event occurs and starts the automated process.
2
The first job opens a communication channel or selects data from a local BackendObject and delegates the retrieved entities to a following job.
3
A second, more or less standardised job for inbound messages analyses these. The analyser identifies message type, reciepient, sender and more parameter. The process branches depending on the message type and transforms the entities with mappings accordingly. The converted entities are then containerised in a dedicated message box. After all entities have been processed they will be collected and delegated to another job.
4
The third job sends the messages through a specified communication channel.
Centralised workflow and workflow editor
eBiss uses one central workflow, which dynamically branches out to partner-specific mappings, communication channels or process switches. The graphical workflow editor visualises all of these processes. Their resources remain comprehensible and everything is also automatically documented.
Simply create new partner accounts
Another strength of eBiss, which is highly appreciated by our customers, is the ability to add new partners without external help and get started right away. The TradingPartner search here on the website shows if a trading partner can be reached via eGate. In addition to this, it also offers to download the partner profile configuration file for the import into eBiss itself, without any additional costs. Expensive and lengthy installations for each standard partner are a thing of the past.
Two-stage mapping concept and unique mapping functions
The mappings are a central part of each EDI converter: In eBiss, they cannot only be adjusted quickly and flexibly, but they can also do far more than just translate: Functions for recognising, changing, grouping, correcting, adding or converting data take a lot of customization work from you. And if "your" function doesn't exist yet, you can even create your own. Similarly, the two-stage mapping concept ensures clarity and ease of implementation of the targeted, partner-geared communication. Special mappings for specific trading partners can be integrated without much effort, since they do not have to be constantly tailored to your in-house format, thanks to the two-stage concept. This means: In general, special mappings for specific partners or message formats are often already available, saving you time and money. It is also an investment into the future: If you ever change your ERP or RMS system, only the in-house mapping part needs to be created anew. If that new ERP/RMS system comes from one of our many software partners, even these mappings already exist.
Integrate data, processes & surface seamlessly
Integrating the interface processes (reading, writing, and committing) has many advantages: By eliminating transfer files, your systems become less error-prone, as you don't have a "media break" any longer. This factor is hence eliminated as a possible source of interference, and there is more time for other, more important things. Furthermore, with an integrated data transfer to the EDI converter, there is no time delay between writing a transfer file and the subsequent reading. Everything happens in real time and opens up new possibilities: eBiss even knows whether a document has been read or committed correctly in your database and can react accordingly with follow-up procedures. Conversely, you can also integrate EDI processes with the graphical interface of your ERP or RMS. The users can go directly from their familiar interface to send, receive or see messages and errors. This relieves the IT / EDI department and speeds up processes.
Demo Version with 5 use cases
Download "eBiss 3 Demo"- 3.3.200 eBiss3DemoSetup_3.3.200.22411.exe – 73 MB
Basic modules
Modules that require extra licensing