eBiss converter / EAI software
– The first intelligent EDI converter
– Far more than just an EDI converter
– The only partner-oriented EDI and EAI software
– Optimal for B2B and A2A integrations
The only partner-oriented and fully integratable EDI and EAI (Enterprise Application Integration) software for B2B and A2A Integration.eBiss is a EDI converter for exchanging data between applications inside and outside the company. It supports the integration of various WWS applications through its comprehensible real-time data transfer and can be used for highly flexible applications in IT departments as well as in predefined, integrated processes. With eBiss, there is a separation between IT staff and users, i. Users can administrate fully-defined processes themselves without additional IT staff.


versatile, modular, flexible, scalable!
Digitize and automate your business processes with eBiss. Dramatically reduce the complexity of your EDI landscape and benefit from excellent performance. Communicate cost-effectively with your trading partners. Worldwide and cross-platform. With the Pranke eBiss Converter you improve efficiency, save time and reduce errors.
Map internal processes in one go:
Numerous companies use eBiss as a "data hub" for enterprise application integration between ERP, enterprise resource planning, logistics or financial accounting. With the use of eBiss software, processes can be automated quickly and still be customized. The eBiss software can therefore be used as a data hub between the different applications of each customer. With the elimination of many individual interfaces, a fully integrated IT landscape is created in each case.


This overview shows the most important and most frequent processes that can be handled quickly with eBiss.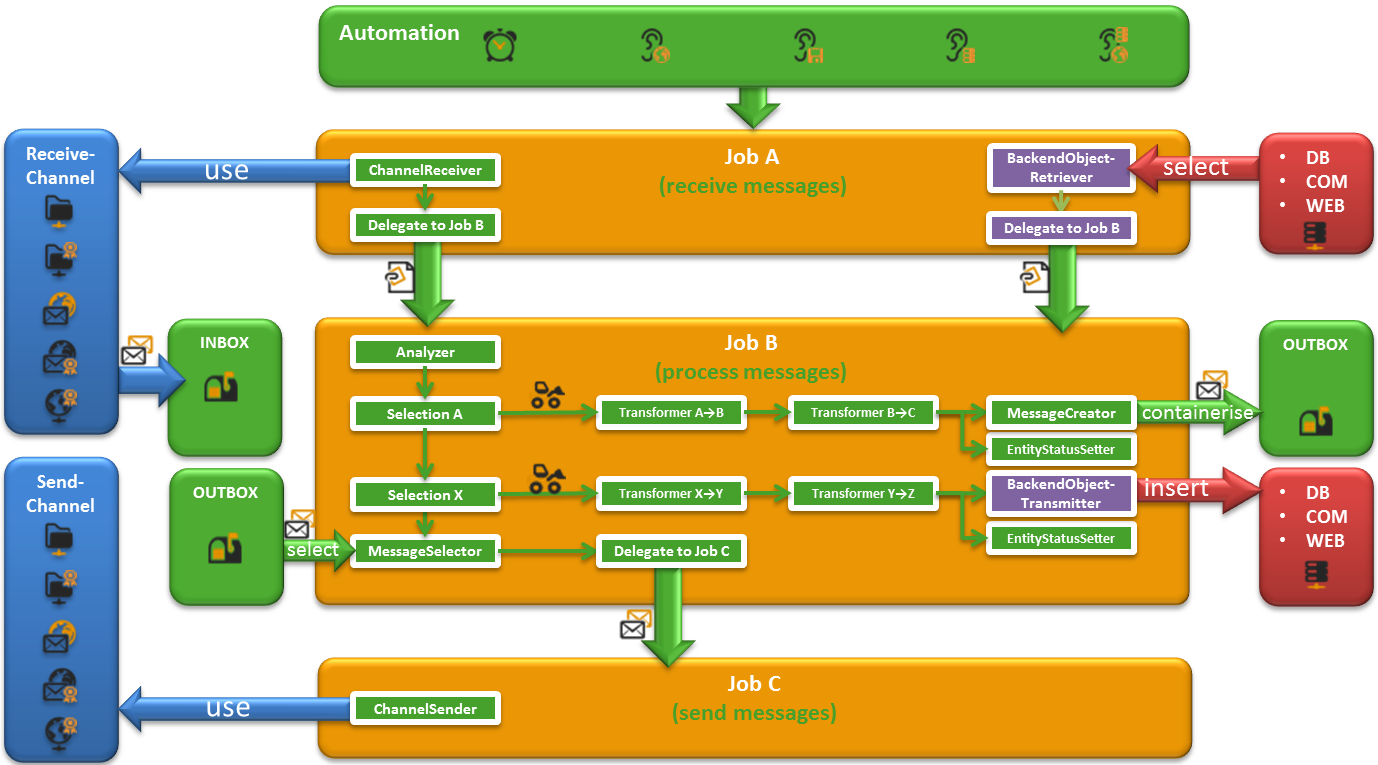 1
An event occurs and automatically starts a process.
2
The job opens a communication channel or selects data from a local BackendObject and delegates the received entities to a subsequent job.
3
A quasi-standardized job for incoming messages analyzes this. The type, the sender or receiver and possibly other parameters are recognized. Depending on the type, the process branches in the process and the necessary type conversions are carried out with the appropriate mappings. Subsequently, the converted messages are containerized into a message basket. After setting all the messages to be processed, these are collected from the mailbox and are then delegated to a subsequent job.
4
A third and last job sends the messages passed to it via a specified communication channel.