Here we post the latest news about EDI.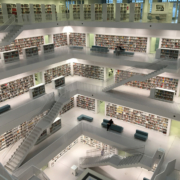 Sorry, this entry is only available in Deutsch. For the sake of viewer convenience, the content is shown below in the alternative language. You may click the link to switch the active language.
Das Repository gehört zu den Kernelementen im Pranke eBiss. Hier regelt man einen Teil der Prozesse, die unabhängig von Mappings funktionieren.
Für den Begriff Repository finden sich im Internet Übersetzungen wie Repositorium, Speicherort oder Verwahrungsort.
Interessant ist der Ausdruck Repositorium.
Wikipedia:
Ein Repositorium (lateinisch repositorium 'Lager') ist ein verwalteter Ort zur Aufbewahrung geordneter Dokumente, die öffentlich oder einem beschränkten Nutzerkreis zugänglich sind. Veraltet bezeichnet Repositorium auch einen Schrank zur Aufbewahrung der Amtsbücher und Ordner.
Eine gute Definition! Das Repository besteht im Prinzip aus verschiedenen Komponenten, die bei der Einrichtung von Datenstrecken benötigt werden.
Mit den Komponenten des Repository werden sowohl eingehende, als auch ausgehende Daten klassifiziert und eingeordnet.
Im Repository gibt Erkennungskomponenten, Analysatoren, Entitäts-Typen, Lesekomponenten, Schreibkomponenten und schließlich die "Kontainerisierer"
Analysatoren
Nach der erfolgreichen Nachrichtenerkennung kommen die Analysatoren ins Spiel. Ein wichtiger Schritt im Workflow.
Anhand der im Repository hinterlegten Definitionen werden die Entitäten untersucht (eine Entität ist ein konkretes Objekt bzw. ein Dokument), es unterscheidet sich eindeutig von anderen Entitäten des gleichen Entitätstyps.
Informationen wie zum Beispiel Sender, Empfänger, Dokument, Datei, E-Mail oder Anhang werden während der Analyse erkannt und vermerkt.
Sind entweder das Repository oder die Typesets im System nicht richtig konfiguriert, kommt es zu Fehlermeldungen.
Typische Fehlermeldungen:
Häufig ist die Nachrichtenrichtung nicht korrekt eingestellt (eingehend – ausgehend), manchmal ist ein falscher Erkennungstyp hinterlegt oder der Entitätstyp ist gar nicht im Repository bekannt.
Entitätstypen
Nun wird es konkret. Die Entitätstypen müssen, um einen reibungslosen Ablauf der Prozesse zu ermöglichen, im Repository hinterlegt sein. Im Tagesgeschäft haben Sie es mit verschiedensten Nachrichtenformaten- und Typen zu tun, deswegen werden Ihnen die folgenden Begriffe vertraut sein.
Ohne den Entitätstyp Edifact.Orders.D96A werden Sie zum Beispiel als Hersteller oder Lieferant niemals eine Bestellung Ihres Händlers verarbeiten können. Fehlt der Entitätstyp Edifact.Slsrpt.D96A, wird es Probleme bei der Nachbestückung geben, weil die Abverkaufszahlen einfach ins Leere gehen.
Selbstverständlich sind die gängigsten Typen in unserer eBiss Standard-Auslieferung mit dabei.
Wir unterstützen Sie gerne bei individuellen Lösungen.
/
by mg
https://pranke.com/wp-content/uploads/2019/07/tobias-fischer-PkbZahEG2Ng-unsplash1.jpg

675

900

mg

https://pranke.com/wp-content/uploads/2016/07/Logo-Pranke-horizontal-1-300x138.png

mg

2019-07-172019-07-23 08:29:12